Back in the early 1960's, music underwent a transformation. We had already moved away from the days of big bands and crooners, through skiffle and rock 'n' roll, to the start of something that is still with us now, and always will be, popular music. I was born at the right time to be in on the ground floor and I loved it. God bless our good family friend Kath Evans, who asked me one momentous day if I had heard the new radio station, Radio Caroline? I hadn't at the time, but within the hour was starting a life long obsession.
Back in those early 1960's, no group was more popular than the Beatles. I loved them too. I was able to go to a 'record shop', and buy a 'single' for 6/8, that's six shillings and eight pence, in today's money, 33p. A single, by the way, was a round plastic disc, seven inches in diameter with a hole in the middle. There was a 'track' on both' sides of the disc, one side being the main song, the 'A' side and the other the 'B' side having a different song on it. Occasionally a record company would release a 'double A sided' single which they thought contained two songs of equal quality. The Beatles' 1967 hit Penny Lane / Strawberry Fields Forever is a good example of that. You would rush home from the record shop, fire up your 'record player', and listen to your newly purchased songs time and time again.
By repeated visits to the record shop, it was possible to build up a record collection. Vinyl records were with us for many, many years, until the advent of the Compact Disc. CD's are still the default way of purchasing a song or collection of songs from a record shop, which I suppose I should now call a music shop.  Incidentally, there are many people who think that vinyl should never have gone away, that the sound from a vinyl disc is unique and as result not only did vinyl never really go away, it is now seeing something of a resurgence.
But we've come ever further. Now, we don't need to go to any shop to buy music, we download songs, collections, albums, part albums, whatever we want, from iTunes and play them on our iPhones, iPods, iPads etc. We play them wirelessly to WiFi speakers. We don't physically buy anything anymore, we don't need shelving to store our CD's, we have an MP3 file on our phone or laptop, who would have believed that in the early 1960's?
But there's more. We don't even need to buy and download a song anymore, now there is streaming. Even streaming isn't that new, Spotify, in particular, has been around for quite a while. Streaming, for those who don't know, is a service, and there are many of them now, where you use your laptop, computer, iPhone etc., to connect to a server, select any song and play it without buying it. It 'streams' to your device via WiFi. You pay a monthly fee and can listen to any music you want. I resisted streaming for a while, I couldn't get Spotify to work on my iPhone at all, but a year ago I bought some Sonos speakers and was given a free one year subscription to Deezer. I like Deezer but when my subscription expires I'll not be renewing, as we now have a family subscription to Apple Music.
With Apple Music you can stream all the music that is available, which is just about everything ever recorded, with some exceptions. Adele's new album 25 is one of those. Adele will not allow streaming sites to have her new album, no, she wants your money. Pay up to be depressed seems to be her motto. That does not put me off using Apple Music, there are millions of songs available. There are playlists, complete albums, staff suggestions, even playlists based on music Apple knows you like. There are Radio Stations, lots of them, spearheaded by Beats One. I prefer some of the others, 'Chill' and 'Singer / Songwriter', are a couple of favourites.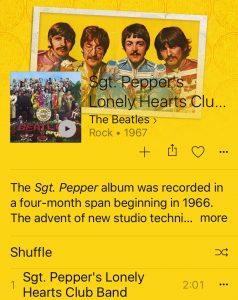 But finally, on Christmas Eve 2015, the Beatles entire catalogue has been added to Apple Music, and all the other streaming services too. It's ironic really. In the late 1970's the Beatles company, Apple Corps, sued Apple Computer for trademark infringement, and won. Apple Computer had to pay them $80,000, but bizarrely part of the settlement was that Apple Computer agreed not to be a music business and Apple Corps agree not to be a computer business.
Of course Apple Corps were not happy when Apple Computer became a music business and so they sued Apple Computer again. That became very contentious, but Apple Computer won this one, largely because the judgment said they were not selling music, but were providing content. The relationship between the two companies was strained for some time, but eventually improved, but it wasn't until late 2010 that the Beatles catalogue became available for sale on iTunes.
Now, finally, on 24th December 2015, the Beatles catalogue is available on streaming services. They say it's the entire catalogue it's not quite. All the main albums are there, but not the 'Naked' edition of 'Let It Be'. That's the alternative version of 'Let It Be', that came out in 2003. It was a project that Paul wanted to do, he was never happy with the Phil Spector production on the original version of 'Let It Be', so he took all the Phil Spector production off and released the album again, as originally recorded. I love 'The Long And Winding Road' on the original, with it's huge orchestral production to accompany Paul's excellent piano and vocal, but I completely understand him wanting to hear it the way he intended it. So I'd like to see that album on streaming services too.
But streaming is the way to go. For your monthly fee almost every song ever recorded is available for you to play at anytime, and I mean at anytime, because with Apple Music, and all the other streaming services no doubt, you can elect to download whatever you want to be saved to your iPhone or any smart phone. So you can listen to the music you want, not just at home, but also on the Metro to Four Lane Ends or the Metro to Place de la République, on a flight to Nashville, or whilst eating a pastie in Greggs in Albion Street in Leeds.
Streaming is a great way to try new music, and the 'For you' section on Apple Music is really good, that and the radio stations, with no DJ's!, makes it well worth it. But the irony is that I am now paying a monthly fee to listen to music that I have already paid for. I paid 6/8 for it, over fifty years ago!