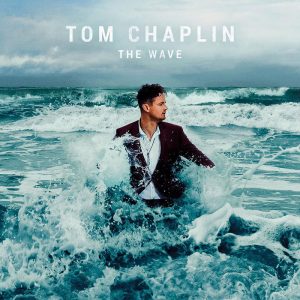 This week, actually on Thursday 11th May 2017, Helen and I went to the Sage Music Centre in Gateshead to see Tom Chaplin in concert. Tom, if you don't know, was the lead singer of the UK band Keane, who had hits with songs like 'This Is The Last Time', Bedshaped', 'Everybody's Changing' and 'Somewhere Only We Know'.
Sadly for Tom, he succumbed to the 'Rock 'N' Roll' lifestyle problem of drug taking. Like most people with this problem, he ended up in a fairly bad place, where at one low point in his life, his wife Natalie told him that she loved him "in case she never saw him again". Thankfully Tom's drug taking days appear to be behind him, he has had counselling, he went to rehab, he took advice from friends and colleagues, including Sir Elton John. He openly talks about his problems and says that they are now in his past. That's great, of course.
Keane have not split up, apparently they are on 'hiatus', but Tom is pursuing a solo career and has an album out called 'The Wave', which is full of really excellent songs and it's an album I've been listening to for while. We were pleased to be going to this gig. This concert though was different from most others I've been to and I've been to some good ones. Queen at St James' Park, Newcastle, Earth Wind and Fire at the Manchester Apollo, and Sir Paul McCartney at the Sheffield Arena come to mind.
Tom is an intelligent, likeable, person who has an excellent stage presence and interacts well with his audience. He's very 'personable', he comes across on stage as a genuinely nice guy, you feel that you'd be happy to have a drink with him in the pub. He also has some fine musicians with him, there were only four of them, a drummer, bass guitarist and two others who flipped between keyboards and violins. There was also a full orchestra feeling to some of the songs, provided by one, or more perhaps, of the Macbook Pro's on the sound desk. Nothing wrong with that.
But there were two things that made this gig different. Firstly the sound guys got the balance just right, particularly on Tom's microphone. So often the singer's mic has way too much bass on it, not so for this gig, it was spot on and Tom was crystal clear. Secondly and this is what really matters, Tom has a superb voice, he enunciates really well and as a result I could hear every word that Tom sung, and that is so rare at gigs these days. If you get the chance to see Tom in concert, go! Also check out the album 'The Wave' it's really very good.
How many times have you been to a gig and the singer has the microphone pressed up against his mouth so that he can not speak properly, let alone sing. Sir Elton John springs to mind. Do you remember the original video of him singing 'Your Song' back in the '70's? That was great, watch him now, you can't understand a word. So Tom took advice from Elton John, perhaps Elton now needs to take some advice from Tom.